At the end of November we launched our Telegram bot ISeeHomelessBot. Let us share the first results of our follow-ups on reports collected from people of Saint Petersburg.
Since the bot started working, we've processed 20 reports. Behind every report is a homeless person in need of help.
This elderly man in a tourist tent near a mall is Aleksey Evgenievich. We gave him an insulated sleeping bag, so he doesn't suffer while sleeping in a summer tent, covered in snow. And our colleagues from the Center of Social Services and the Diakonia foundation are helping us find a way to put Aleksey Evgenievich in a social shelter.
This is Aleksey Nikolaevich, he lives on the Partizana Germana st., he's 52 years old, and he doesn't have a passport. Thanks to the joint effort of Charity Nospital and the Alcoholics Anonymous, this man was admitted to the local narcological hospital, where his alcoholic addiction will be treated. We stay in touch, and once Aleksey Nikolaevich goes through his treatment, we will help him to restore his ID, so he can keep moving forward.
This is Alexander Nikolaevich, we found him in a lobby of a subway station. We treated him to a bun with tea and dosirac. We also tested him for HIV, hepatitis, syphilis, and we suggested that it could be a good idea to admit him to a narcological hospital to treat his chemical addiction. However, Alexander Nikolaevich refused, at least for now. We plan to visit him again, this time with counselors from Alcoholics Anonymous, and if he accepts our offer, we could help him get admitted to a hospital.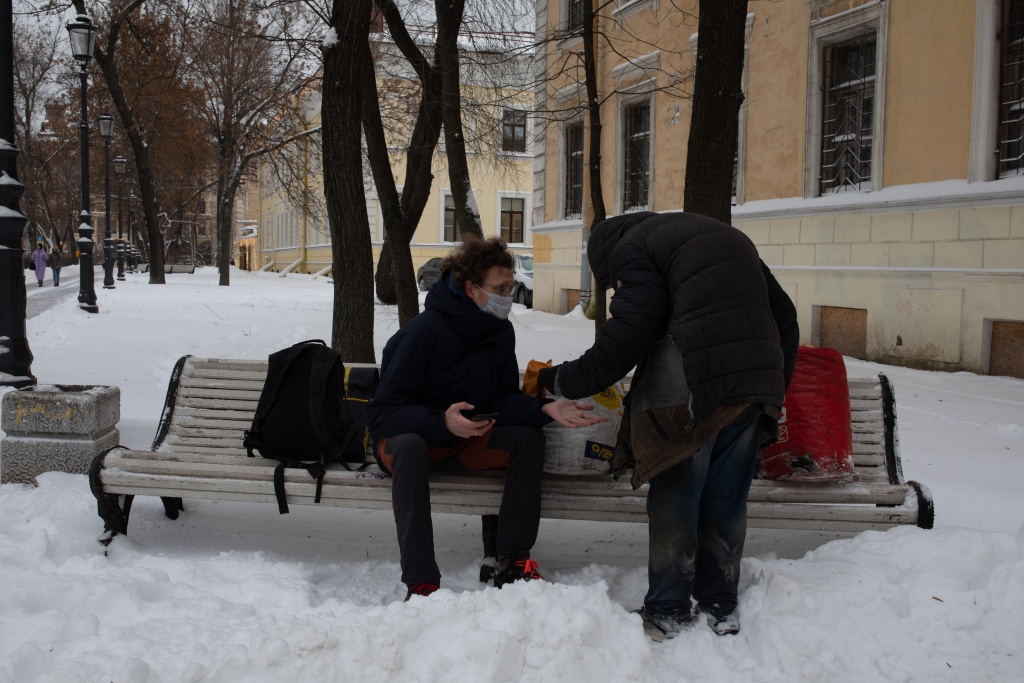 Not every homeless person, whom we visit after reports from the Telegram bot, accept our help. Sometimes they refuse help due to their mental peculiarities and trust issues, and sometimes they only partially accept help: they may accept tea and food, they may let us treat their wounds, but they stop cooperating after that or become hostile. We try to find a good approach to every person, but it's difficult. Still, we're always happy to help.
Our thanks go to a programmer from the ProCharity platform of the Friends foundation, who wished to remain anonymous; to our colleagues from the Hospital's editorial board, who proofread and improve everything we do; to Ilya Sharov and the "Help is Near" foundation for the grant support and the tech upgrade of our bot (for example, they gave our bot the ability to transcript audio-messages from reporters).
We'd also like to thank Igor Antonov from the Diakonia charity foundation, who is an expert on street social work. We thank our colleagues from the club of orthodox youth "Kinoniya", from the social services center and the registration center, and from the charity store chain "Thanks!" for joining us in our trips to homeless people in need, for consultations and material donations – we couldn't do it without you!
And, as always, we thank the people of Saint Petersburg, who care, who tell us about homeless people through the bot and otherwise, and who don't just walk by. We appreciate your empathy and your kind hearts!